iPhones are the best smartphones you can buy. So, it's not surprising that they are relatively expensive and are rarely on sale. Even "budget-friendly" models like the iPhone XR and iPhone 11 had starting prices of $749 and $699, respectively.
If you want to get an iPhone without paying the full price, used might be your best option. iPhones are powerful, robust smartphones that can last years. This means it's not even a major trade-off to buy a used phone.
Before you purchased a used or refurbished iPhone, there are some things to be aware of. Here are the top things you need to know about refurbished iPhones. Afterward, you'll also find some recommendations on the best places to buy one. Get ready for this ultimate guide to refurbished iPhones.
What is a Refurbished iPhone? 
You should know right away that refurbished means used. But this can vary significantly. It can be a demo phone from the store. Refurbished could also be an iPhone somebody bought and decided to take home the next day. Or it could be one somebody used for months before they traded or sold it for some reason. In these respects, there's no difference between a user and a refurbished iPhone. So what's the difference?
Used iPhones are sold "as is" except with restored iOS meaning all personal information has been cleared. Any damage to the phone, scratches, or cosmetic issues will still be present. And, this should be listed by the seller. They'll also include other information such as a non-functioning feature like a cracked screen or foggy camera.
Refurbished iPhones have undergone diagnostic tests to ensure it meets specific criteria. In some cases, they may be broken or damaged phones that were repaired. Or they may have just been returned the phone. In some cases, they may even be like a brand new phone in all aspects. Finally, they may include a new factory-refurbished warranty depending on where your purchase from.
The exact quality of the refurbishment process depends on the retailer. A refurbished iPhone direct from Apple will be of the highest quality (and the highest cost). But you can generally feel safe buying from sites like Amazon, Swappa, big-box retailers, and mobile carriers.
But when you buy from real third party sellers like those on eBay and Swappa, you should do a little homework to make sure you're getting a quality product.
Now let's dive into everything you need to know:
1) Are refurbished iPhones reliable?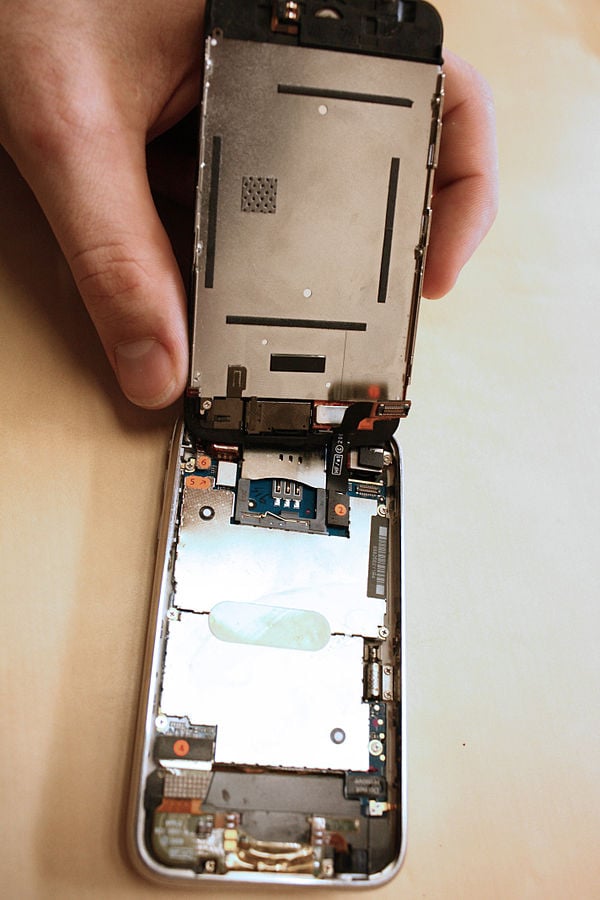 With any used product, it's reasonable to wonder whether it's as good as a new product. When it comes to refurbished, the answer is maybe. If you purchase from an established source like Apple or certified resellers, or those with a good background, your iPhone should be just as good as any other. This is particularly true if they back it up with a warranty for your peace of mind.
2) Is it the right iPhone for Your Cell Network?
When you're shopping around, you may see labels like "Refurbished iPhone 7 (AT&T)." All iPhones later, the iPhone 5 work across the cellular networks. However, they operate on different mobile standards. Sprint and Verizon use the CDMA standard while T-mobile and AT&T use GSM. You don't need to worry too much about the details.
Just ask the seller for the iPhone model number so you can check to make sure it's compatible with your carrier. You may also want to check the phone's IMEI device number. This is not only another to test if it's compatible with your network but also to make it isn't reported stolen or is carrier-locked to one system.
Get Cash For Your Used iPhone
We buy used and broken iPhones for top dollar! Get free shipping, a 14-day price lock, and our highest price guarantee.
GET A FREE QUOTE
You can also buy unlocked phones that will work in any network. If you're a frequent international traveler, this is an excellent choice for you.
3) What's the Right Price?
You'll likely be buying at least one generation behind the current model. So you already should be saving $100. But once again, this depends greatly on who you purchase the phone from. An Apple refurbished iPhone will be as close to new as you can buy. So you can expect to find a $20-90 discount off the select phone.
You can find better deals through other retailers, however. Check out our recommendations for refurbished dealers below.
4) iOS Support
For functionality and security purposes, you want to make sure your iPhone is supported by the latest iOS. While you can still find plenty of working iPhone 3Gs or iPhone 4s, they're no longer supported by iOS updates. This means they are no longer compatible with some apps and do not usually receive security patches. On average, Apple supports iOS on iPhone for between 4-5 years. For example, Apple released the iPhone 6 in 2014. IOS updates supported it until the release of iOS 13 in 2019.
So if you want an iPhone you can use for at least 2-3 years, aim for a model that is currently two generations old or newer.
5) Is there a warranty?
Warranties are essential for any used product. Even when you purchase a new iPhone from Apple, there's a chance something could go wrong. With used and refurbished iPhones, there's chances are naturally higher.
If it's in your budget, purchase an additional warranty to a refurbished phone your purchase. It'll be better to pay $29 to repair a broken screen than $100.
6) Does it have the right features for your needs?
This is a question you should ask yourself regardless of whether you're buying a new or used phone. Refurbished iPhones won't have the latest features. But you can expect them to be robust and versatile smartphones. Apple has always had good cameras, vivid screens, and other elements on their iPhones. That's why many people prefer to purchase an older iPhone versus a comparably priced new phone from a different manufacturer.
The most crucial question is storage. You can find some great deals on phones with only 16 or 32 GB of storage. And with iCloud, you don't need as much anyway phone storage anyway. Try to find the right balance on price and flexibility to help you get a great deal.
Where Can I Buy Refurbished iPhones?
Now that you know what to look for in refurbished iPhones, it's time to check out some of the top retailers. Here are some of the best places you can buy refurbished:
Apple
Apple provides the best quality refurbished iPhone (and Apple product). All refurbished iPhones go through rigorous testing and come with a one-year AppleCare warranty (they're also eligible for AppleCare+). Since these products are effectively new, you won't find any great deals. But, you be sure these phones will last a few years. 
Amazon
Amazon has its own category of refurbished they refer to as "Amazon Renewed." These products are tested and certified by qualified suppliers to work and look like new. They even look like new are backed by a minimum 90-day supplier warranty and Amazon's return policy.
Compared to Apple, you can find much better deals on phones. However, there have been quality complaints about Amazon Renewed Products. Check the reviews thoroughly on the iPhone you're interested in before buying.
Swappa
Swappa is a fantastic option for buying used electronics. There are many resellers with excellent reviews selling iPhones at great prices. What makes Swappa different from eBay is that you can get a better understanding of price ranges and the quality of the seller.
You can also buy phones in any shape for different prices. For example, you can find a phone that's in "Fair shape" that still works quite well but may have some cosmetic damage for much cheaper than a better condition one. And unlike buying used, this phone will have undergone diagnostic tests to make sure everything else is in good shape.
If you want to find the best deal on a refurbished iPhone, it's hard to beat Swappa.
DeCluttr
DeCluttr allows you to kill two birds with one stone. You can trade-in your used iPhone and buy at a refurbished one all in the same place. Although their testing isn't as rigorous, they still check the condition of devices to make sure everything works. They also include options for storage, screen size, and device color.
They also purchase a wide variety of other used goods like electronics, toys, Legos, and more, making it an excellent option for a little spring cleaning.
Phone Companies
The major cellular companies often sell used or refurbished iPhones that were traded during upgrades or returned for repairs. These are usually in good shape though if you're going down this route, you may as well negotiate for a new iPhone with your new phone contract.
eBay and Craigslist
eBay and Craigslist were the original places to buy and sell used electronics online. You can still find some incredible deals on these. But scammers could also burn you with a broken iPhone.
eBay has gotten better, and shares overlap with Swappa and other sites when it comes to reputable, high-rated sellers. But Craigslist is still the Wild West when it comes to buying things, so buyer beware.
Everything You Need to Know About Refurbished iPhones
Refurbished iPhones are an excellent way for you to save some money when buying a new phone. They're not only cheaper, but they're also a greener option giving a second life to a phone.
If you do your homework, you can find a great combination of price, features, and quality to help you find the perfect iPhone for your needs.
Whether you choose to buy a new or used iPhone, you can offset the cost of your purchase when you sell your old iPhone or smartphone to Buyback Boss. Click here to see how much your phone is worth.
Learn more about buying and selling iPhones on the Buyback Boss Blog. Learn how to sell your device for parts along with what to do before you sell your phone. You also figure out when the best time of year to buy an iPhone. Find deals, repair tips and tricks, and everything else you need on our blog.