Many people agree that T-Mobile reinvigorated the cellular service industry as the nation's "Uncarrier." They were the first carrier to eliminate two-year contracts while bringing back unlimited data plans. Over the last few years, they've also made considerable strides to improve the network coverage and performance, even launching the first nationwide 5G network.
Unsurprisingly, T-Mobile has seen the largest number of customer growth out of the big four cellular carriers (AT&T, Verizon, T-Mobile, and themselves). At the same time, many budget carriers have emerged promising to save customers on their monthly phone bills while still taking advantage of these major networks. The largest of these is Straight Talk, which offers plans for between $35-55.
So is it worth it to switch from T-Mobile to Straight Talk? Find out in this head-to-head guide of the two carriers.
Skip the Details: Who's Better?
T-Mobile. T-Mobile has a huge variety of both prepaid and postpaid plans that can match any budget. Their unlimited prepaid plan starts $5 a month cheaper than Straight Talk's, and you get the benefit of being a direct T-Mobile customer and not using an MVNO.
T-Mobile's competitive pricing and improvements in service make it the best overall carrier even compared to Verizon and AT&T.
The one advantage Straight Talk has over T-Mobile is it can use other carrier networks. If this is a necessity for you, then you may want to look into Straight Talk instead. Out of all the budget carriers, Straight Talk does rank near the top.
About Straight Talk
Tracfone-owned Straight Talk targets data-hungry users on a budget. Straight Talk is a mobile virtual network operator (MVNO). MVNOs lease space from major carriers to use their network. Since they don't have to pay the costs of operating and maintaining cell towers, they can afford to charge lower prices. All the national carriers have their own budget brand. T-Mobile operates Metro, which also ranks highly.
Unlike other MVNOs, Straight Talk uses all four carrier networks. However, you can only select one for your phone to use when you sign up. We discuss this more below.
Walmart has the exclusive rights to sell Straight in its retail stores. However, you can also purchase Straight Talk phones and plans on their website or by phone.
Straight Talk Pros
Great coverage on all major cell networks
Large number of compatible BYOD phones
Competitive speeds even with big four carriers
No credit check
Cheap activation $.99
Large selection of Android and iPhones with promo discounts
Good international options (with an added fee)
Straight Talk Cons
Only three primary plans
Hotspot only available on $55 plan
No family plans
Below average customer service
About T-Mobile
Deutsche Telekom, the largest telecommunications provider in Europe, owns T-Mobile USA. The company, as we know it, began after Deutsche Telekom purchased VoiceStream Wireless in 1999. In the next decade, it acquired several other smaller carriers. In 2011, AT&T attempted to buy T-Mobile for $35 billion, but the US government blocked the merger.
In 2012, T-Mobile merged with MetroPCS to create T-Mobile US. This merger allowed T-Mobile to expand its LTE capabilities into new markets with added spectrum resources. In 2013, T-Mobile began the "Uncarrier" campaign, which created a contract-free pricing structure with simpler plans. They also began allowing phone trade-ins and early upgrades along with data carryover and unlimited streaming music and video services from platforms like Apple Music, Spotify, Netflix, YouTube, and many others.
Since 2013, there have been several attempts for a merger between Sprint and T-Mobile. In late 2019, the FCC approved the merger on the condition that Sprint sells off its budget brands (Boost and Virgin), and the new company ensures 90% of Americans have access to 5G within three years of the approval.
Get Cash For Your Used Phone
We buy used and broken phones for top dollar! Get free shipping, a 14-day price lock, and our highest price guarantee.
GET A FREE QUOTE
T-Mobile Pros
Excellent coverage and performance
All-in pricing including taxes and fees
Good perks
Range of unlimited options
International options
High data cap
eSim compatible
Large selection of phones
T-Mobile Cons:
Rural coverage isn't great
Straight Talk Plans
Straight Talk is all about simplicity. They offer three prepaid plans from $35-55 per month. Don't be tricked by the word "unlimited." Their unlimited plans are for an allotment of data at 4G LTE speeds that are then reduced to 2G speeds after it's used up. Technically, they're still unlimited, but try sending an email or hopping on YouTube, and you'll feel the difference quickly.
These are the three plans:
3 GB: $35 per month ($34 with Auto-refill)
25 GB: $45 per month ($44 with Auto-refill)
Unlimited+ 10 GB Hotspot: $55 per month ($50/month for three months with Auto-refill)
Along with this, they offer a 2-line, unlimited plan for $90 per month and extended plans for extra savings. You can add-on other features like international calling, additional data, and other features on most plans.
T-Mobile Plans
T-Mobile has enough plans to make your head spin. T-Mobile offers both prepaid and postpaid plans.
T-Mobile's three basic postpaid plans are Essentials, Magenta, and Magenta Plus, ranging from $60-80 for individual lines (along with discounts for family lines) that includes unlimited talk, text, and 4G LTE data among other features.
T-Mobile also offers three prepaid plans that range from $40 per month for 10 GB of LTE data to unlimited 4G LTE data for $50 per month.
Finally, T-Mobile has a pay-as-you-go plan that starts from $3 month for talk and text with the option of adding data to your plan. This option can provide you with a lot of price flexibility.
It's also probably the cheapest pure data option you can get among all carriers at $10 for the North America Simple Choice Mobile plan with 2GB 4G LTE
Winner: T-Mobile. T-Mobile has plans for any budget and any need. Whether you want full unlimited with perks like Netflix or a simple phone plan, it's got you covered. And it has a wide range of family plan with substantial discounts for each additional line.
Straight Talk vs. T-Mobile: Family Plans
Straight Talk does not have a family plan. As mentioned, they do have a two-line plan for $90 per month. However, T-Mobile has the same plans, and it includes additional benefits like 2G data in Canada and Mexico and more.
If you're looking for deals on family plans, consider Metro by T-Mobile. They have a good selection of prepaid monthly family plans that are highly affordable and include unlimited data starting at $80 per month for two lines.
Straight Talk vs. T-Mobile: Performance and Coverage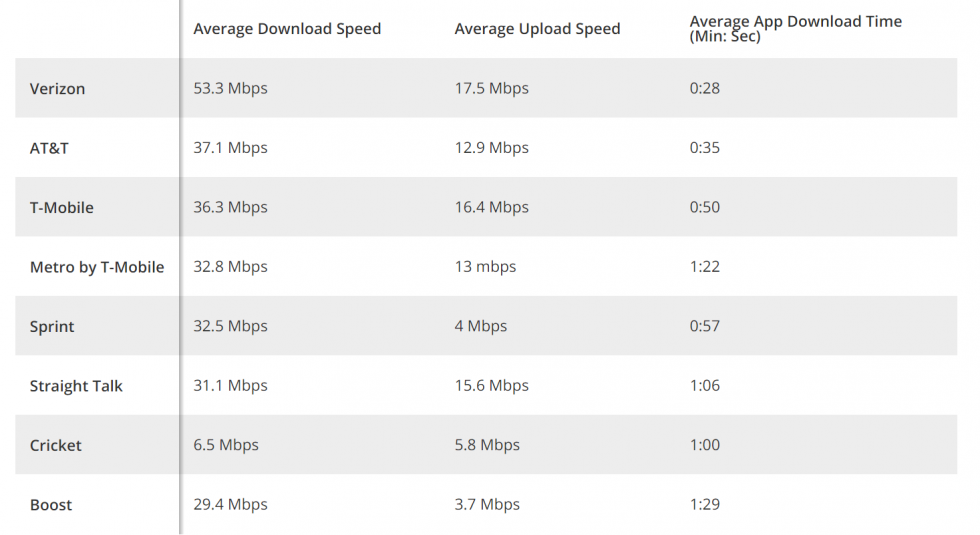 For a long time, people joked about T-Mobile performance and coverage. They've come a long way over the last few years. In terms of performance, they frequently top the rankings in some areas. Overall, they are generally in second or third place. T-mobile was the first carrier to roll out nationwide 5G, which covered 200 million Americans by early 2020.
Straight Talk is an MVNO, and you can select any of the four major networks. But you do have to choose one. You don't have the ability to move from one to another whenever one is best. If you bring a Sprint phone, you'll use Sprint's Network. The same goes for T-Mobile and the other carriers.
If you bring an unlocked device to Straight Talk or purchase one from them, you'll use a GSM network, either T-Mobile or AT&T. You can search your area on their website to see what network they use.
You may be able to use any network with Straight Talk, but MVNOs do have a few downsides. Their customers are deprioritized, meaning during times of congestion or excess data use, direct networks customers are prioritized. For most people, this isn't a big deal. But if you're a power user or want the highest speeds, you're better off directly subscribing to a primary carrier.
Winner: T-Mobile. But Straight Talk does give you more flexibility, particularly in rural areas where T-Mobile may not work as well as other networks.
Straight Talk vs. T-Mobile: Phones
Both Straight Talk and T-Mobile allow you to bring your own device (BYOD). With Straight Talk, you can purchase a SIM kit for $0.99.
T-Mobile is a little more expensive. A SIM kit costs $10, which is about the same as the other nationwide carriers. However, if your phone is eSim compatible, you can set it up for free all via the T-Mobile eSim app. The eSim can be activated with either:
$10 GB: $40
Unlimited: $50
After a month, you can move to any T-mobile of your choice or stay with either of these.
Winner: Tie
Straight Talk vs. T-Mobile: Buying and Leasing Phones
You can purchase phones from both Straight Talk and T-Mobile. Straight Talk has a large catalog of budget phones along with flagships. T-Mobile has a large selection of phones overall.
You can lease phones from both Straight Talk and T-Mobile as well. This is another category where T-Mobile really dominates Straight Talk. As a national carrier, they offer tons of incentives like free phones, discounts, buy one get one free to entice users into long term contracts. You can also lease phones with no interest over a 24 month period.
With Straight Talk, you can lease phones, but you will have to pay interest if you can't pay the phone off in under a year. As with all MVNOs, you're better off bringing a phone to Straight Talk or purchasing it outright.
Winner: T-Mobile
Straight Talk vs. T-Mobile: Customer Service
Straight Talk is a budget carrier. You can expect budget customer service. Straight Talk consistently rates below average in this area. Even though other Tracfone brands have live chat help, they do not for some reason. Overall, most Straight Talk users agree that you need to sort issues yourself when it comes to the budget carrier. But if you have simple needs, this should rarely be an issue.
T-Mobile has pretty solid customer service and beats AT&T and Sprint easily in this area. You can approach them via social media, call the tech-support line, or use live chat. They've also recently launched the Team of Experts program to ensure you talk to a real person anytime you call for help. T-Mobile's only issue in this area is that their website can be confusing to navigate compared to other carriers.
Here are the toll-free numbers for both services:
Straight Talk: 1-877-430-2355
T-Mobile: 1-800-937-8997
Winner: T-Mobile
Straight Talk vs. T-Mobile: Perks and Rewards
This Is where T-Mobile really stands apart from other carriers. Each week T-Mobile gives freebies to customers through T-Mobile Tuesdays app. Frequent prizes include discounts on Lyft, free Wendy's Frostys, free access to MLB TV, and other perks.
T-Mobile is also excellent for international travelers. T-Mobile customers on Magenta and Essentials plans can get unlimited data in Mexico and Canada. Along with that, it has unlimited data and texting on other plans. T-Mobile also has perks like free in-flight WiFi, Netflix, and other perks.
Straight Talk does have a rewards program geared to help customers save money. They can get rewards for paying bills on time, signing up friends, and more.
Straight Talk vs. T-Mobile: Bottom Line
In nearly every category, T-Mobile blows the Straight Talk out of the water. It's not just the better of the two, but one of the best options you have available. The only other carriers that rival it are Verizon, in terms of network performance, and Metro by T-Mobile, in terms of deals.
Visit the Buyback Boss blog for more of our carrier showdowns. You can check out the differences between the two popular budget carriers: Boost vs. MetroPCS. Or see how well MetroPCS ranks against Verizon. Find the best deals on cellular plans, learn smartphone tips and tricks, and more on our blog!