Anybody can get locked out of their iPhone. Maybe you've forgotten the passcode. Or maybe someone has entered the wrong too many times. Whatever the reason, it can create serious issues for you. Fortunately, Apple has a few options if you're dealing with this situation. Here's how to get back into your phone in no time at all.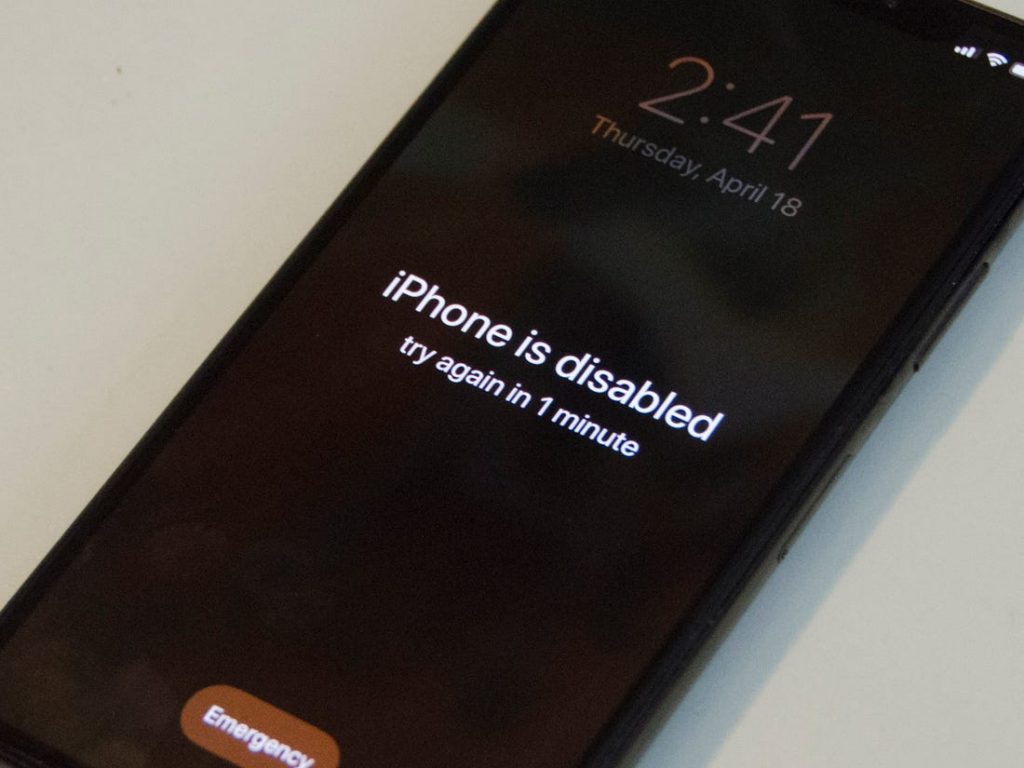 Why Am I Locked Out of My Phone?
Apple does this for your safety. If your phone is lost or stolen, you don't want your data falling into the wrong hands. Apple has created a variety of tools to prevent unauthorized access called Find My iPhone, Activation Lock. With this, nobody can erase your iPhone without your Apple ID and password if you've enabled Find My iPhone.
Unfortunately, these same security tools can inadvertently lock out the phone's rightful owner. Once a wrong passcode is entered too many times you'll see an "iPhone Disabled" message on the screen.
How Long is my iPhone Disabled?
If you enter the wrong passcode between 1-5 times, you'll have no issue. After the sixth time, you'll have to wait a minute followed by 5,15, and 60 minutes. On the 10th time, you'll need to connect your phone to iTunes. If possible try not to do this because it's much easier to input the correct passcode then go through the following process. Give yourself some time to remember instead.
How to Get Back into Your iPhone
If you're unable to use a passcode, you'll need to connect your iPhone to iTunes. If you've previously used your iPhone with iTunes, you'll be able to restore and sync your phone with the most recent backup. If you haven't you'll rely on your latest iCloud Sync.
After connecting the phone to the computer, tap the iPhone icon and select Restore iPhone.
Follow the steps to reset from the latest backup and you'll be able to access your phone again. Make sure to set a new passcode that you won't forget next time.
Entering Recovery Mode Without iTunes
Many people have never connected their iPhone to a computer. It comes with everything you need so why would you? If you've never backed up your phone with iTunes, you'll need to use recovery mode. Connect your phone to a computer with iTunes installed on it. Next, reboot your phone by following these steps:
For iPhone 8 and newer: quick press and let go Volume Up button followed by Volume Down button. Next, press and hold Side button until Recovery Mode appears on the screen.
For iPhone 7 Models: press and hold the Volume Down and Side buttons at the same time until Recovery Mode Launches.
For iPhone 6s or older (and iPad or iPod Touch): Press and hold Home Button and Sleep button until Recovery Mode launches.
Once in recovery mode, you'll see an iTunes message giving you the option to Restore or Update the device. Chose to restore and wait until it downloads. You may have to launch Recovery Mode again if you have a slow internet connection. After download, follow the directions to restore your device.
Get Cash For Your Used iPhone
We buy used and broken iPhones for top dollar! Get free shipping, a 14-day price lock, and our highest price guarantee.
GET A FREE QUOTE
If the activation lock is enabled, you'll need to enter your Apple ID and password to initiate the restoration process. If you've been using iCloud, the majority of your data should be restored without issue.
Be Cautious of Alternative Solutions
Using recovery mode or using iTunes to recover your phone are the only Apple-certified ways of getting you back into your phone. However, if you start browsing around the internet, you may find different solutions. There's no guarantee that any of these tools will actually work. Moreover, many of them are the same apps and services that criminals use.
You have no idea if these services may end granting cybercriminals access to your data and being used to steal your identity. As a last-ditch resort if you truly can't remember your passcode and Apple ID, you can try to use them but do so at your risk.
Prevent iPhone Lockouts in the Future 
The easiest thing to do is using Apple's biometric security features like TouchID and FaceID. With them, you can easily and quickly access your phone even if you cannot remember your passcode. Be careful with whom you trust your phone. Children are often the most frequent culprit of these lockouts. This is because they lock to play with the passcode screen causing this to happen.
Make sure you have set up your iCloud and Find My iPhone accounts to use these protective features and maintain access to your phone. Finally, store your passwords and passcodes in a password manager to keep them in a safe place in case you forget them again.
I'm Locked Out of My iPhone! [Solved!]
There's nothing more frustrating than getting locked out of your iPhone. Fortunately, Apple provides you with a couple of excellent options to get back in. And if you backup your phone often, you won't even have to worry about data loss.
Just beware that any other non-Apple method used to regain access to your phone may be your phone and data at risk. Instead, prevent lockouts by using TouchID and FaceID along with a password manager to store your passwords in a secure place.
Are you ready to sell your old iPhone to upgrade to the convenience and accessibility of FaceID? Click here to see how much BuyBack Boss will pay for your used phone. We offer the highest resale value for your phone. And with us selling your phone is easy. After you get your instant quote, print out the free shipping label and you'll have cash for your old phone in no time. Try it out now!
To learn more solutions to common iPhone issues, check out our blog. You can discover great tips like what to do if your phone screen is black, how to repair broken Touch ID and so much more. Unlock everything you need to know about iPhones, phone upgrade programs, and all things smartphone on the Buyback Boss blog!