What to do if Your iPhone Screen is Unresponsive
When it comes to iPhones, there are some problems that aren't detrimental to the device's overall functioning. However, an unresponsive screen is not one of those. If the screen doesn't respond to your directives as it should, then you're not going to be able to accomplish even the most basic of tasks. There are some different factors that might come into play with an unresponsive screen, so we'll take some time to go over them, as well as some fixes to this relatively common issue.
Your iPhone Screen Might Not Respond Because of a Troublesome App
You might find that your iPhone's screen becomes unresponsive when you're using or trying to use a particular app. This is a strong indication that it's the one app that is causing the trouble and not an overarching issue with the iPhone.
You can uninstall the app, and that should fix the unresponsive screen. That's probably going to be your best move, especially if there is a similar app that you can get in the App Store that doesn't have this difficulty.
If you want to keep the app, then you should understand that it's probably a software glitch that's causing the unresponsive screen. You could try deleting that particular app, and then reinstalling it to see if it works any better. To remove the app, press down lightly on it with your finger. When it starts to vibrate, and the small X appears superimposed over it, press the X and the option to delete the app will come up on the screen. Accept the option to remove it.
To reinstall it, go to the App Store. Find the app using the search engine, and then tap the icon for it. It might take up to a few minutes to reinstall.
You can also try updating the app if there is an update available. That might solve the screen being unresponsive as well. To do that, tap on the App Store icon, then tap where it says Updates at the bottom of the screen. If there are any recent updates for that app available, they'll show up at the top of the list. Tap on the update and see if that makes any difference.
Wet Fingers Could Mean an Unresponsive iPhone Screen
It might also be as simple of a matter as your fingers being wet. Your fingers need to be dry if your iPhone is going to respond as it should. Dry off your fingers, and make sure that they are clean as well. Then, try using them on the screen again.
If You Are Wearing Gloves as You're Trying to Touch the iPhone's Screen, then Take Them Off
If it's winter or the weather is cold, and you're wearing gloves, then that could be the reason that the iPhone's screen is unresponsive to your touch. Take off the gloves and give it a try. Alternatively, there are gloves that you can get that are specially designed to be worn when you are using a touchscreen phone. Look around online for them, or you can buy them in a store.
Does Your iPhone Have a Screen Protector on It?
There are such things as screen protectors that you can get for your iPhone. They protect the device from damage when it is not in use. If you are trying to use the touchscreen, though, then you'll need to remove that protector. If the screen is nonresponsive, maybe you just forgot to take your protector off.
Wipe Off the iPhone's Screen
You might also try wiping off the device's screen with a soft, clean cloth. There are cloths that are sold for this purpose, but you can just as easily use a strip of any soft fabric. Be gentle with this process, as the iPhone is full of sensitive components.
Get Cash For Your Used iPhone
We buy used and broken iPhones for top dollar! Get free shipping, a 14-day price lock, and our highest price guarantee.
GET A FREE QUOTE
Check the iPhone's 3D Touch Sensitivity Settings
If you own a later version of the iPhone, then it will have 3D Touch sensitivity settings. The phone might be on too high of a setting, in which case your touching the screen is not registering. You can adjust this feature, though.
Go to Settings.
Go to General, then Accessibility.
Go to 3D Touch and adjust the sensitivity slider. Slide it lower so that the screen feels your fingers touching it. If a slight adjustment doesn't work, slide the bar all the way to the left and see if that makes any difference.
Is the Problem Related to Screen Rotation?
Maybe your iPhone's screen is only unresponsive when you are trying to rotate it. If that is the case, then the problem might be due to the Orientation Lock feature. Swipe up with your finger from the bottom of the iPhone's screen to bring up the Control Center. Tap the Padlock icon and see if the screen responds to your touch now.
Restarting the Device Might Help
If nothing has worked so far, next, you can try the trusty iPhone restart. It fixes many problems, so it might be the answer to this one. Hold down your Home button along with the Sleep/Wake button at the same time for about 10 seconds. This will restart your iPhone, and maybe resolve the issue.
Have You Had Your iPhone Repaired Recently?
Unresponsive screens also sometimes are reported by iPhone owners if they had the device repaired recently, but particularly if they had the screen replaced by a company other than Apple. If your iPhone's screen cracked, then the urge might be to replace it if you don't think that any other aspect of the phone was damaged. If you go to Apple, then you are getting a replacement screen that you know is designed specifically for that particular version of the iPhone.
If you used a third-party repair entity, though, then they might have used a cut-rate screen that is not intended for use with your model of phone. If that's what's happening, then you'll probably start noticing the issue as soon as your phone is returned to you with the new screen on it.
It's better to go through a licensed Apple retailer if you need your screen replaced. It's likely to be more expensive, but at least you know you're getting the right screen for that generation of the iPhone.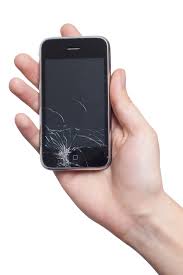 Restore the Device to the Factory Settings
The last thing that you might try is restoring the iPhone to its factory settings. You'll need to back up your data with iCloud or iTunes first to make sure that you don't lose anything vital.
Tap Settings, then General.
Scroll down to where it says Reset.
Hit Erase All Content and Settings.
You will next be asked to put in your passcode. Go ahead and do that.
Now you will be prompted to enter your Apple ID password. This is so Find My iPhone can be switched off and your account can be removed from the device.
The reset process will take a couple of minutes, and then you should see the Welcome screen.
The phone has now been reset to the factory settings. You can restore your data from iTunes or iCloud, and then see if the screen is responsive now.
If even that failed to correct the problem, then you should bring the device to an Apple Store so that the Geniuses can take a look at it and figure out if there is something else going on with it that we haven't yet covered.