Has your iPhone suddenly stopped making notification sounds? Did you miss an important text because you didn't hear a notification? Or maybe you didn't receive an alert in general.
This is happening more than ever lately, particularly for users who've updated to iOS 13 or iPadOS. Naturally, this has created a lot of frustration from people who've missed important texts from friends, family, and coworkers.
Whether you receive an iMessage or SMS text, you should receive an alert sound, an onscreen alert, and vibration. But if this isn't happening for you, we've got some easy tips to fix this iPhone no sound on the text issue in no time.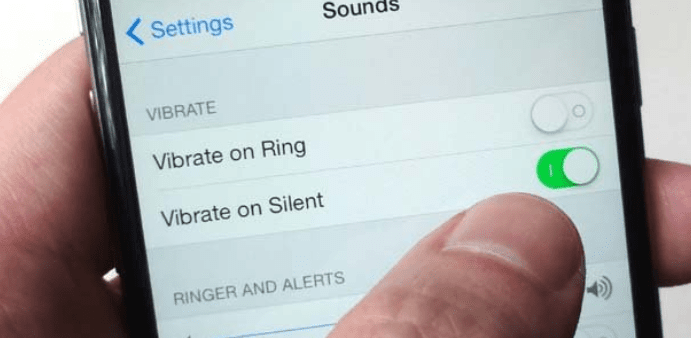 iPhone No Sound On Texts Quick Tips: 
You may have tried some of these already, but it never hurts to quickly breeze through these steps to get the iPhone alert sound back on.
Check the mute switch isn't turned on
Make sure the sound is turned on and the volume is up loud enough for you to hear it
Make sure Do Not Disturb is disabled
Check if the message thread has Hide Alerts enabled
Change Notification Banners to Persistent
Check your notifications are stacked. Then unstack them.
Make sure Deliver Quietly is disabled for the app
Select a different text tone
Make sure your contacts haven't been changed to None for their text or ringtone
If your pair with an Apple Watch or other devices, make sure notifications aren't bypassing your phone
Check your Bluetooth connections particularly speakers
Reset your network connection
Update to the latest iOS. Previous versions had bugs that caused notification errors.
Another Quick & Easy Solution
Several users have managed to bypass this issue by changing their text-sound back to default using either Ding or Note. The notification problems happened much less frequently compared to the default alert tones.
To change your Settings > Sounds & Haptics > Text Tone and select Note (Default)
Check Bluetooth Connections
Bluetooth connections can interfere with your notifications. For some people, they have to have the Bluetooth turned off for their phones to receive alert sounds.
If you pair with an Apple Watch or other wearables, this may not be a long-term solution. Delete your Bluetooth device and re-sync. If still facing errors, try the latest update.
Force Restart Your Phone
If your iPhone has no sound on text messages, sometimes a force restart (also known as a hard restart) can fix these sorts of issues. Force restart clears out RAM helping get your iPhone back where it needs to be. 
For an iPhone 8 or later, then you'll need to press and release the Volume Up button, then your Volume Down button. Next, press and hold your Sleep/Wake button next. The Slide to Power Off slider will appear on the screen. Swipe it from left to right, resetting the iPhone.
If you have an earlier model of the iPhone, you perform a hard reset by holding your Home button and your Sleep/Wake button. The Home button appears on iPhone 7 models and before the phone, but Apple discontinued it with the iPhone X.
Hold the buttons until the Slide to Power Off slider pops up on the screen. Don't release the buttons, though. Keep pressing them until you see an Apple logo. Then, you can let go, and the phone will reset.
Get Cash For Your Used iPhone
We buy used and broken iPhones for top dollar! Get free shipping, a 14-day price lock, and our highest price guarantee.
GET A FREE QUOTE
If you're using an Apple Watch and still having issues, you may need to force restart it. Learn how to force reset your Apple Watch here.
If Nothing Else Works: Factory Reset Your Phone
You should only do this if no other strategies are working for you. Follow these steps:
Backup and sync your phone to iCloud
Sync any apps
Go to iPhone Settings > General. Scroll down to the bottom of the page, and select Reset > Erase All Content and Settings
If successful, you'll see an onscreen message about setting up Siri
Send a test message to see if alert sounds are working or not.
Still No Sound On Texts For Your iPhone? 
Alert sound issues are usually pretty minor and can be remedied by one of the quick fixes from above. In rare cases, you may have a deeper software issue going on that's going to require the attention of Apple experts.
If your phone is still under AppleCare, then bring your iPhone into the nearest Apple Store to see if they can fix it there. If it's not covered, you may have a deeper issue that could be expensive to repair.
Weigh out whether you really need the alert sounds and if it's worth the cost of repair. You may also want to consider selling your iPhone to buy a new one. This is the best option for phones between 2-3 years old that can still get a decent resale value for them.
Visit the Buyback Boss Blog to find answers to more common iPhone questions. We have more tips on how to troubleshoot iOS sound problems, including what to do if there's no sound on your iPad and a complete step-by-step guide to fix all sound issues on any iOS device. For all things iPhone, iOS, and Apple, cruise on over to our blog right now!