Do you have an iPhone that keeps restarting over and over again? If so, then you're likely to be finding it irritating. You want an answer to why it's acting that way so that you can get back to enjoying the device's many functions. As it turns out, this isn't a problem that has one particular cause. It could be several different things, which is why there are a number of avenues that you can pursue as a possible fix. Let's go over them right now.
Your iPhone Keeps Restarting One of Two Ways
There are two ways that iPhone restart. There's the version of the problem where they restart intermittently. That's where you can use your phone for a while with no issues, and then, for no apparent reason, it restarts. The second version is where the device is stuck in a restart loop. If that's what is happening, then the phone will be completely unusable. The distinctive Apple logo pops up on the screen and then disappears. This happens again and again.
If you have the second problem, then you won't be able to try these first three fixes. Skip to the fourth solution. If your iPhone is only restarting intermittently, you can start by updating iOS to try and break this unwanted cycle.
Updating iOS Can Keep Your iPhone from Restarting
Before you attempt this first fix, make sure that you've backed up your iPhone with iTunes or iCloud. Once that is done, you can see if there is a new version of iOS available. The problem of your iPhone restarting when you don't want it to is more than likely a software issue rather one involving hardware. iOS updates contain fixes for glitches and bugs, so it makes sense to try this first if you've got a situation where the device is restarting intermittently.
Go to Settings, then General, and check for a Software Update. If you see one there, install it. You could also connect your device to your laptop or PC with a USB cable and update to the latest iOS version with iTunes if you prefer.
Maybe Your iPhone Keeps Restarting Because of an App
You've probably got a wide variety of apps on your phone, both the ones that you installed voluntarily and the ones that came pre-installed when you purchased the device. Apps don't often cause iPhones to restart, but it can still happen. If you installed an app right before you started having this issue, then that would be a sign that it is the cause of what's going on. You should uninstall it and look for a similar alternative.
There's one other way to figure out if there's a particular app that's problematic.
Go to Settings, then Privacy.
Go to Analytics, then Analytics Data.
Scroll through that list, and see if there's a particular app that is listed over and over again. If there's one like that, then uninstall it and see if the iPhone no longer restarts.
Reset All Settings
Resetting all of the device's settings shouldn't be seen as a cure-all, but there are many software issues that it can potentially fix, and this could be one of them. Go to Settings, then General. Go to Reset, then scroll down to where it says Reset All Settings. Tap it, then wait for the phone's factory settings to be restored. You won't lose any of the data or apps. You'll need to put in your Wi-Fi password again, though. This serves as a refresh for all of your phone's applications and its software. It might just do the trick.
Remove Your SIM Card if Your iPhone Keeps Restarting
Now, we've gotten to the part of the article where you can try some solutions whether your iPhone is restarting intermittently or continuously. Taking out the device's SIM card and reinserting it can get you out of a reset loop in some cases. If it's a problem with your wireless carrier, this is a high-percentage fix. You don't have to worry about removing your SIM card, as long as you put it back in the right way. As soon as it is back in there, it will reconnect with your carrier.
Take the straightened end of a paperclip or a SIM card removal tool and press it gently into the small hole on the phone's right-hand side. This will eject the SIM card tray from the device.
Take the SIM card out. Then, put it back in the same way. Press carefully on the tray, sliding it back into the phone until it clicks. See if that has solved the problem.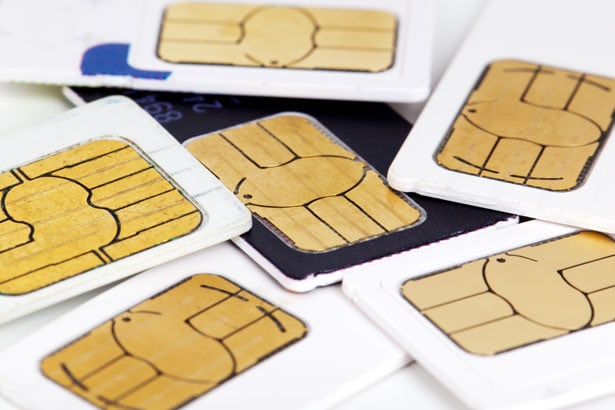 Do a Hard Reset if Your iPhone Keeps Restarting
Doing a hard reset of an iPhone isn't good for it. It's kind of like pulling the plug on a PC or a laptop that has frozen. However, if you have gotten to this point and nothing else has worked, it's worth a try. Hold down your Power button along with the Home button. The Home button is the round one located directly below the screen. The screen should go black, and the Apple logo will show up on the display.
Get Cash For Your Used iPhone
We buy used and broken iPhones for top dollar! Get free shipping, a 14-day price lock, and our highest price guarantee.
GET A FREE QUOTE
If you have an iPhone 7, you must instead do this with the Volume Down button and the Power button.
If you have an iPhone 8, 8Plus, or an iPhone X, then you'll need to press and release the Volume Up button. Follow this by pressing and releasing the Volume Down button. Finally, press and hold the device's Side button.
Try using your phone for a little while and see if the resetting issue has been fixed.
Try an iTunes Restoration
The last thing that you can do related to software problems is to restore your phone entirely with iTunes. This reloads and erases all of the device's software, which is why you should use it as a last resort. Doing a DFU restore is probably the way to go here. It's the deepest type of restore, and it will eliminate any possibility that's what's going on is because of software.
DFU means Device Firmware Update. To do one, first, you must connect your phone to a laptop or PC with an Apple-approved USB cable. Then, launch iTunes, making sure that it's the latest version. Press and hold the Sleep/Wake button. At the same moment, press the Home button if you have an iPhone 6 or an older model than that. If you have an iPhone 7, hold the Volume Down button.
After 8 seconds, release the Sleep/Wake button, but continue to hold down either the Home or the Volume Down button. A message will come up on the screen that says "iTunes has detected an iPhone in recovery mode." Let go of the Volume Down or Home button. You are now in DFU mode, and you can restore the device.
If you have an iPhone 8 or a later model than that, follow these steps for DFU mode. Press and quickly release the Volume Up button. Press and quickly release the Volume Down button. Finally, press and hold the Side button. The screen should go black after a couple of seconds. Once it does, press and hold the Volume Down button while continuing to hold the Side button. After 5 seconds, release the Side button. You must continue to hold the Volume Down button until the phone appears in recovery mode in iTunes.
This maneuver is a bit complex for more recent generations of the iPhone, and if you're inexperienced, you might need to do it a couple of times till you get it right.
Maybe It's a Hardware Issue
If you have tried all the fixes related to software, then a hardware issue is all that remains. To see if that is what's happening, head to an Apple Store with a Genius Bar and talk to the employees there. They will open your phone up and see if they can identify anything wrong with it.