iPhone GPS Not Working – Full Troubleshooting Guide
Problems with your iPhone's GPS aren't as common as things like Bluetooth or Wi-Fi connectivity issues. However, some people do report that their GPS is not as accurate as it should be, or in rare cases, it can stop working altogether. We'll discuss several fixes to GPS problems, but first, you should make sure that your Location Services is turned on.
Toggle Your Location Services Off and On
Go to Settings.
Go to Privacy.
Head to Location Services, and make sure it is toggled to the On setting. Turn it to Off, then wait 15-20 seconds and activate it again. See if that has solved the problem.
Try Adjusting Airplane Mode to Fix the GPS
You can also sometimes get your GPS to work again by adjusting the Airplane Mode.
Go to Settings.
Enable Airplane Mode.
Leave it on for about 20 seconds, and then turn it back off. This can be useful in several different situations, not just when you're having GPS problems. For example, if you see a "No Service" error or your Wi-Fi service is cutting in and out, you could try this as well.
Adjust the Date and Time
If your GPS is still not functioning as it should, then you can next try adjusting the date, time, and time zone. Most iPhone owners have more luck by using the Set Automatically feature.
Go to Settings.
Hit Date and Time.
Choose the Set Automatically See if that fixes your GPS.
Try Turning Off LTE
You might also be able to fix the GPS by turning off LTE.
Go to Settings.
Tap on Cellular.
Hit Cellular Data Options.
Hit Voice and Data.
Select the 3G option.
IMAGE: iPhone Cellular Data Options
You Can Try a Soft Reset
If your GPS is still not working, then a soft reset could be the answer. That fixes many different problems that you might encounter with your iPhone. Do not worry: none of the data will be erased if you try this option.
Press and then hold down the Wake/Sleep button along with the Power
Keep holding them down for at least 10 seconds.
When the Apple logo pops up on the screen, release both of the buttons. The phone should reset. It will take a few minutes for it to be functional again. Once it is, see if the GPS is working.
What if the GPS Problems are Only Related to One App?
Maybe you're experiencing a situation where the iPhone's GPS is working in a general sense, but it won't work with a particular app that you like to use. If that's the case, then make sure the app is up to date. You can do so by opening the App Store, tapping Updates, and then looking for the app that's causing the problem. Tap on it to see if there are any more recent versions available.
Get Cash For Your Used iPhone
We buy used and broken iPhones for top dollar! Get free shipping, a 14-day price lock, and our highest price guarantee.
GET A FREE QUOTE
Reset Your Network Settings
If you've tried the various options that we've mentioned to this point, and the GPS is still not functioning, then resetting your network settings makes sense.
Go to Settings.
Tap General.
Hit Reset.
Tap Reset Network Settings.
You will be prompted to enter your passcode.
Tap on Reset Network Settings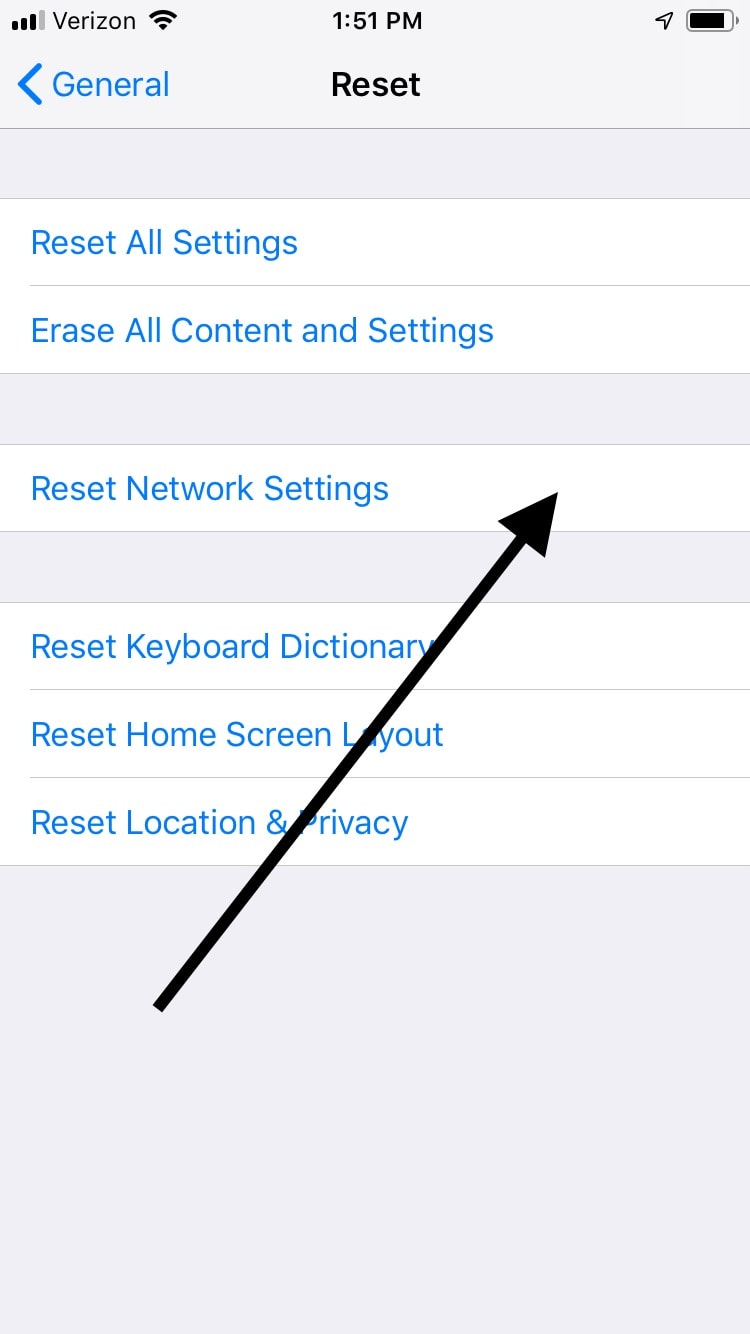 Try a Combination of Solutions to Fix Your GPS
If the GPS is still problematic, then you might have success by trying a specific combination of the solutions we already mentioned. In this case, that's going to be closing the apps, enabling the Airplane mode, and resetting the network settings.
First, close the apps. Do so by tapping twice on the Home You will see a preview of the apps that you have been using. When you see the image of each app, swipe up to close it. Do this for each app that is currently open.
Go to Settings, and then enable the Airplane
Reset the Network Settings, as we detailed in the prior solution.
Go to Settings, then Privacy, and Location Services. Disable Location Services for a few seconds, and then turn it back on.
Next, head to Settings, then Privacy, then Location Services. Tap on System Services and turn Time Zone
Go back to Settings, and then turn off Airplane
Look for an iOS Update
If that last series of adjustments still has not corrected the GPS functionality, then an iOS update might help.
Begin by connecting your iPhone to a power source.
Connect to your Wi-Fi network.
Hit Settings, then tap on General, then Software Update.
If you do see one available, hit Download and Install or Install Now.
Restore Your iPhone to the Original Settings
If none of these have worked, then it's time to pull out the big guns. You can use iTunes to reset your phone to the factory settings. Be sure that you back up your data beforehand, and also make sure that you have the latest version of iTunes that's available.
Use the USB cable that came with your iPhone, and connect the phone to your computer.
Wait for iTunes to recognize the device, and then select your iPhone.
In the Summary tab, click where it says Restore.
Confirm the action, and wait a few moments for the task to be completed. Your iPhone should reboot on its own within a few minutes.
Set up your iPhone as new and see if the GPS works now. It is quite probable that the issue will be solved.
If none of these solutions have worked, then a software issue seems unlikely. If it is not the phone's software, then there has to be some sort of damage to the hardware, and you're probably not equipped to fix it yourself. Opening up the phone and tinkering with it will void the warranty.
Take the phone to an Apple Store that has a Genius Bar, and explain to them what's happening. It will also be helpful if you detail all of the fixes that you tried. The Geniuses should be able to take a look at it and figure out what is going on. If the iPhone is still under the factory warranty, then it shouldn't cost you anything to fix it.
If the internal mechanism which controls the GPS is severely damaged, then it is not inconceivable that you might need to get an entirely new phone.