Don't Make Another Meal Until You Check Out These iPhone Apps
Stop! Don't cook!
Let's face it. You like cooking but, if you're being honest, you could probably be better at it. You're busy. You have a few go-to recipes and ingredients. Maybe you get around to mixing it up once or twice a month. Or maybe you're an expert chef, but you know there's always room for improvement. Even the best chefs are always looking for new recipes, techniques and flavors! That's why Anthony Bourdain has so many TV shows.
Well, that's where these awesome, highly rated, free apps come in. Whatever your kitchen needs, these apps will lend a helping hand:
Big Oven
Big Oven is a popular general app for finding and saving recipes, making a grocery list, and creating a menu plan for the week. Their weakness, if anything, is only in their generality. They have a ton of recipes, but the recipes can be tough to sift through to find the right one. That said, for sheer variety and ease of organization, this is a great app – if you're willing to put in a little work to get started.
Over 350,000 recipes with beautiful photos
Search by ingredient, recipe contributor, or collection (ex. "Kid-Friendly Dinners" or "Tailgating Fun")
Save recipes, create grocery lists, plan menus on the calendar, and connect with other users
Yummly
Yummly advertises itself as a smart and powerful app, and it delivers. Primarily an app for finding recipes, it asks you a series of questions when you sign up to determine what you need. It then tailors its recommendations to your specifications. It even checks the weather in your area. While not all of its recommendations are on point, search functions allow you to filter for anything and everything, so it's still very possible to find the perfect recipe for any occasion.
Quickly draws recipes from a wide variety of online sources
Offers highly specialized searching and recommendations
Also has a shopping list function, if you're so inclined
Get Cash For Your Used iPhone
We buy used and broken iPhones for top dollar! Get free shipping, a 14-day price lock, and our highest price guarantee.
GET A FREE QUOTE
Allrecipes.com Dinner Spinner
The Dinner Spinner app is a fun way to discover new recipes, brought to you by the favorite cooking website of moms everywhere (or, at least, my mom). The best part of the app is definitely the dinner spinner, but it also gives you access to tons of crowd-sourced recipes and has features to save favorite recipes and make a grocery list. Not the prettiest app, but it certainly fulfills its purpose.
Save recipes and create grocery lists from large, crowd-sourced recipe site
Use the "Dinner Spinner" to get inspired, either by spinning it for randomized results or by arranging it to find recipes based on the dish type, primary ingredients and preparation time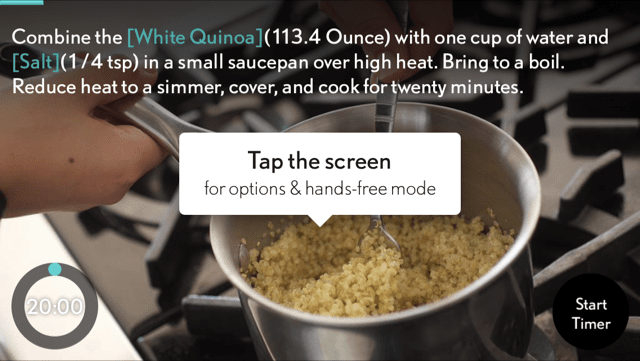 SideChef
Definitely one of the more aesthetically beautiful cooking apps, SideChef is really designed for newer cooks. The recipes are not particularly complicated and it displays photos while reading you the recipe, step-by-step. The app also sets timers for you as you pass each step. This can be helpful at any level if you're trying something new or looking for a quick fix. It's a great way to try new techniques or just to stay on track while cooking.
Walks you through recipes out loud, step-by-step, with photo demonstrations
Beautiful photos and easy recipes
Especially good for novice cooks
Pepperplate
Pepperplate, by contrast, is an app for serious cooks – or those of us who like to think that's what we are. It's an organizer first and foremost, where you can add original recipes or import them from the web. It's handy in its cleanliness – it's not going to give you suggestions. When you write in "Chicken", it's not going to say, "Do you mean, Nicole's Spicy Pecan Chicken? You might like warrior1967's BREADED CHICKEN BREAST FROM MOTHER!" or anything like that. It gives you a sense of complete control. Plus, Pepperplate's planning functions are as good or better than those of any other app.
Add your own original recipes or import recipes from the web
Keep your recipe collection tidy and highly curated
Grocery IQ
This is a neat, unusual app on the spectrum of cooking apps. Where many of the others offer variations on a Notes function for your grocery list, this is an app that actually specializes in grocery lists. You won't get much inspiration here, but you'll get lots of organizing tools.
Find coupons or use a bar scanner to add your own
Find grocery stores in your area
Store your loyalty card information
Keep your grocery buying history and lists for future purchases
ShopWell
ShopWell is another shopping app, but in this case it's focused on nutrition. It teaches you to shop healthier in your home grocery store by showing you the ingredients in what you're buying and rating your items on a nutrition scale of 0-100. You tell it what you want to do (cut down on sugar or salt, avoid shellfish, train for the Olympics) and it makes recommendations.
Check items based on your local grocery store for nutritional value and hidden bad ingredients
Sync with your Apple Health app to monitor progress as you set health and fitness goals
Scan past grocery receipts for information on what you're buying and how you can improve your shopping habits
Thrive Market
While not for everyone, those who have dietary restrictions or need specialty household items will love Thrive Market. It sells natural and organic products at wholesale prices, so while you have to pay a somewhat steep membership fee, you'll be paying up to 50% less than retail prices to have your groceries delivered. For some, that can mean saving money and peace of mind.
Thousands of organic, non-GMO items delivered to your door
Easily search by needs (gluten-free, Paleo, vegan, etc.)
App Cost: Free to Download, Membership Fee To Stick Around
Pocket Wine Pairing
Ahh, the perfect wine pairing. You'd love to research for days what wine exactly goes with barramundi when your boyfriend's cool aunt announces she's making it. In the real world, though, Pocket Wine Pairing is better, faster, and can be done on the walk between your house and the discount wine store. Plus, for the more wine-oriented, you can save favorite bottles, look up wine types by characteristic, and discover new wines based on your taste profile. Named, presumably, for my college drinking habits (who wants pocket wine?), this app is exactly what it sounds like.
Easily identify the right wine for any situation
Add favorite wines and use that to discover new wines that fit your tastes
Educate yourself about everyone's favorite grape drink
Look classier than you are
Got it? Great! You may resume cooking. Good luck out there.