If you need a service provider for your cell phone, or you need both a new phone and a service provider, then you might find all of the choices to be overwhelming. There are many prominent companies out there competing for your money, and you want to go with the one that makes the most sense for you. In this article, we'll talk about two of the leading providers, Boost Mobile and T-Mobile. Let's see how they stack up in a side-by-side comparison.
Before we get into a detailed breakdown of what these two have to offer, we'll go over some of the main takeaways about which you should know.
Boost Mobile
One of their main perks is Tidal streaming services that come with even their most basic plan
If you bring your own phone, they only accept models that meet specific qualifications; however, they do have several options if you elect to purchase one from them directly
Their base plan will cost you only $30 per month, and it comes with 2GB of 4G LTE streaming data
Their 4G coverage only applies to 27% of the country, which doesn't measure up to some of its competitors
T-Mobile
They have the second-best coverage in the nation, superior to that of Boost Mobile; they also are rapidly implementing 5G LTE for a better overall experience
You can get a line for as cheap as $30 per month with T-Mobile as well; however, you must sign up for a family plan with at least four lines, and taxes and fees are not included
With any of their plans, you get T-Mobile Tuesdays, where you can get discounted movie tickets, restaurant savings, and more
You get texting while abroad with any of their plans, and data in Mexico and Canada as well
There are significant incentives for signing up for autopay and a family plan
Boost Mobile's History
Boost Mobile was founded in Australia by Peter Adderton back in 2000. It now operates in both Australia and the US, and together, they form a single wireless telecommunications brand. In Australia, it runs on a network called Telstra. In the US, the network used is referred to as Boost Worldwide Inc. Boost Mobile is owned by the Sprint Corporation. It makes use of Sprint's network to provide service to its customers.
The company has its headquarters in Sydney. They've used various ad campaigns to keep up with market trends in the two decades since their inception. The Sprint buyout and rebranding took place in 2005. Since then, they've launched a monthly unlimited plan to compete with others within their niche.
Boost Mobile's ad campaigns have often tried to cater to younger and trendier crowds. To that end, they've brought in hip-hop stars and athletes to demonstrate their relevance. Some of those who have appeared in their commercials include Fat Joe, Ludacris, Travis Barker, Kanye West, and Nick Cannon. They came up with the slogan "where you at," which successfully joined the common vernacular.
T-Mobile's History
T-Mobile is part of the German company Deutsche Telekom AG. They are active in Poland, the Netherlands, and the Czech Republic, as well as in the US. They are an enormous telecommunications conglomerate. The name was also once used by subsidiaries in other countries, such as Germany, Slovakia, and the United Kingdom. T-Mobile still has a foothold in all of these, but it operates under different names.
The company was founded in Germany in 1990 by Amir Suhail. In 1999, they were bought out by Deutsche Telekom, which elected to keep using the T-Mobile name. In 2009, the company restructured. The focus was mainly on the US market, along with parts of Europe. In America, the company uses an LTE-based cellular network. They have significant financial stakes in mobile operators elsewhere in the world, such as Central and Eastern Europe.
The company has about 44,000 employees, and its revenue in 2017 was upwards of $40 billion. They have approximately 230 million subscribers worldwide, which makes them the 13th largest telecommunications network in the world, behind others like India's Airtel and UK's Vodafone.
Which One of These Two has Better Coverage?
If you're looking at cell phone service providers, one area to which you should pay attention is their coverage area. In the case of Boost Mobile, what you'll be using is Sprint's network. Sprint has the fourth-best network coverage in the nation. The three others that are ahead of them are Verizon, T-Mobile, and AT&T, in that order.
Because of this, when you're dealing with T-Mobile, you are getting the second-best coverage in the country. Much of their coverage is a 4G LTE network, the quality of which is excellent, and they are also in the process of rapidly implementing 5G. That means browsing with their data plans is going to produce a smoother and more rapid internet experience, and phone calls and texting will be more dependable as well.
In this area, it seems that T-Mobile is the clear winner. Boost Mobile, on Sprint's network, is hardly competitive in this regard.
Boost Mobile and T-Mobile Plans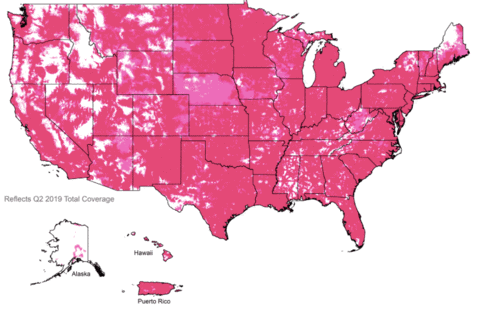 If the cost of your plan is foremost in your mind, then you should pay attention to this section. With Boost Mobile, you can get unlimited plans starting at $30 per month. You get 2GB of 4G LTE data. The plan is supposedly unlimited, but for those who use a lot of data because they are constantly streaming videos and TV, you'll likely run out of that 2GB within a designated billing period. That doesn't mean you won't keep getting service. It just means that the streaming speed will slow down.
Get Cash For Your Used Phone
We buy used and broken phones for top dollar! Get free shipping, a 14-day price lock, and our highest price guarantee.
GET A FREE QUOTE
There is also the option of an unlimited GB plan for $50 a month for one line. Another line will cost you $30.
With T-Mobile, there are plans called Essential, Magenta, and Magenta Plus. They cost you $30 per line, $35 per line, and $43 per line respectively, provided that you get at least four lines and set up autopay. If you don't do that, then it will cost you a little bit more, and taxes and fees are not included unless you get Magenta or Magenta Plus. In other words, T-Mobile wants you to sign up for a family plan and lock into autopay if you're going to get their discounts. That means that on the surface, Boost Mobile seems like a better deal.
With each of T-Mobile's plans, you get unlimited talk, text, and smartphone data within the network. You also get data in Mexico and Canada. How much you get depends on the package for which you pay.
Boost vs. T-Mobile: Perks
With Boost Mobile, it's somewhat of a stripped-down experience. Their prices are among the cheapest, and because of that, there isn't much to excite you with bonus offers or perks. They do offer streaming music from Tidal without any data charges. Tidal is offered as an alternative to services like Spotify. You also get unlimited streaming movies and shows with the unlimited plan, but you'll have to tack on an additional $20 per month.
You get a lot more with T-Mobile, to compensate for their higher price tag. For instance, if you get the Magenta Plus plan, it comes with T-Mobile Tuesdays. That's a program where you get exclusive offers every week. You can get discounts at restaurants, on apparel, movie tickets, and sporting events. You'll get 20 GB of mobile hotspot data, and 2x the data speed and texting when you're traveling abroad. In Mexico and Canada, you get 5GB of 4G data.
If you get the Essentials or the Magenta package then the perks are not as impressive, but you still get T-Mobile Tuesdays and texting abroad, among other things.
Limitations for Either Company
The main limitation with Boost Mobile is that you only get a certain amount of 4G LTE service unless you spring for the more expensive unlimited plan. That's going to cost you $50, which might be too much for people who are on a tight budget, like college students, for example.
With T-Mobile, the plans might include more perks, but there is a strong emphasis on wanting you to sign up for autopay and to get a family plan. If you're not willing to do that, then the same plans are going to cost you more. Because of this, it might be to your benefit to try and round up some friends and sign up with them, if no one else in your family is interested.
Compatible Phones for Boost Mobile and T-Mobile
With Boost Mobile, there are some restrictions when it comes to which phones you are allowed to use. If you have your own phone, you will need to go to their website and see if that particular model is supported. If you don't have a phone of your own, then you can pick from among their devices. There are several LGs, Samsung models, and the latest iPhones.
As for T-Mobile, there are many phones from which to choose, including the brand-new Samsung Galaxy Note and the iPhone 11 Pro Max. The Note will cost you $36.12 per month for 36 months if you pay zero down. The Pro Max is $31.25 per month if you pay $349.99 down. If you have your own phone, go to T-Mobile's site and put in all the information for it to see if it is supported.
You can also get new, "free" iPhones if you add four new lines and trade in your old ones. See their website for more details.
With customer service from Boost Mobile, you can speak to someone over the phone or do Live Chat. Boost Mobile also has 8,000 store locations around the country, so you will probably have no problems locating one if you need to speak to someone in-person.
Who Has the Edge in Customer Service?
T-Mobile's customer service includes a dedicated team of experts who are there to help you, at least according to their website. They emphasize that because of the size of their team, there are shorter wait times to speak to someone.
Where T-Mobile clearly has the edge, though, is with retail stores. They numbered approximately 16,400 as of 2018, more than twice as many as Boost Mobile. It's almost guaranteed that there will be one near to you regardless of where you live in the US. That's one of the convenient things about signing up with one of the largest companies.
Which Carrier is Better?
As for which one is going to be the better choice for you, where Boost Mobile has the edge is almost certainly going to be with the price. You can get that basic plan of theirs for $30 per month with taxes and fees included. If that's what's most important to you, then they're probably the winner.
The thing is, though, T-Mobile has the edge in virtually every other area. Their 4G LTE service coverage area is much larger. Their perks are better, and they have many more store locations. If you're going to sign up with them, though, it is much to your benefit to try and enlist some people and get a group or a family plan. You should sign up for autopay as well. That is how you can keep the costs down and make T-Mobile really worth your while.