Getting ready to buy your next iPhone? You have a lot of great options! Of course, all of these options can make the process of buying a new phone more difficult. Don't worry, we've simplified things in this guide. Learn about the different ways you can buy an iPhone (and the pros and cons of each!).
Buying an iPhone New
There is no better feeling than buying something brand new for yourself. That's the reason "unboxing" videos are so popular online—even if we can't afford a shiny new gadget, we can live vicariously through the internet.
The iPhone is no exception and Apple knows this—their packaging is some of the most satisfying to open. And nothing beats that final tug on the final plastic tab as you watch your brand new iPhone rise from its box and into your hands. A brand new iPhone comes at a price and not all buying experiences are equal. It's important if you've decided to buy a brand new iPhone, that you do it the right way.
Leasing vs. Buying
Today, it's typical to have two options available in your quest for a brand new iPhone. You can either own the iPhone outright, paying full retail price for the privilege of total ownership of your device, or you can "lease" your iPhone via monthly instalments.
What is Leasing an iPhone?
Be it through your carrier or Apple, when you choose to lease an iPhone you're not so much paying to own your iPhone as you are paying to use it. While the iPhone isn't technically yours, it gives you much more flexibility when you're ready to upgrade.
Most iPhone leasing situations come with an "early upgrade" program of some kind. Typically, after making 50% of the payments on that device you're given the option to trade in your iPhone for a new one, thus continuing the cycle of monthly payments. Leasing is a great strategy for those consumers who would rather have a new iPhone every year.
Why Should I Buy an iPhone Outright?
Buying an iPhone outright is the more expensive option upfront but is a cheaper solution overall. While you're paying full retail price on an iPhone, you own that iPhone once you've finished the transaction. What you do with that iPhone afterwards is up to you. And if you keep it in great condition, it should hold much of its value down-the-road when you want to sell it or trade it in. To put it simply—buying an iPhone is a financial commitment toward ownership. Leasing an iPhone is a financial commitment toward the use of a new iPhone.
Buying through a Carrier
If you've settled on buying an iPhone, the first place you can start shopping around is your carrier. Your town should have a brick-and-mortar location to walk into, typically with phones on display for demonstration purposes. You can also buy your iPhone through your carrier's online portal and have it shipped to you.
Pros of Buying Through Carrier
They have stock that other outlets may not have.
Sometimes they have great promotions to push out stock.
Most carriers have physical locations nearby.
Cons of Buying Through Carrier
Customer service can be hit-or-miss.
Some stores do not have live demos.
Online eCommerce portals for carriers can be clunky.
Buying an iPhone Through Apple
Buying your iPhone is going straight to the source. You can purchase your iPhone through the online Apple Store or at a physical Apple Store if you have one near you. While Apple typically does not offer discounts on its products, they do have "back to school" deals for students, which can score you discounts or get you nice accessories like earbuds.
Pros of Buying Through the Apple Store
The Apple retail experience is unrivalled in its customer service.
Apple retail employees are product experts and will have answers to all of your questions.
If you're a student, Apple sometimes offers back-to-school promotions.
Cons of Buying Through the Apple Store
Apple does not offer promotions beyond their student promotions.
Apple retail stores are not always convenient and are not in every town.
If you're unaware of your carrier credentials you could get stuck activating your new iPhone—Apple employees have limited access to carrier resources.
Buying iPhones at Retail Stores
Big box retailers are the go-to outlets for almost every product we buy in our lives, from toilet paper to 80-inch 4K televisions. They should have the iPhone you're looking for in their electronics department. Retailers will have limited iPhone stock, but they are worth looking at in the middle of an iPhone buying craze—you never know when they'll get a new shipment.
Pros of Buying Through a Retail Store
Could score a marginal discount if you have a credit card through your retailer (i.e. a Target Red Card)
Buying from a big box store is convenient—you can grab the newest iPhone on an evening diaper buying run if you want to.
Retailers have a large selection of phone accessories—sometimes larger than Apple and your carrier stores.
Cons of Buying Through a Retail Store
Electronics department employees aren't well-versed in every product they sell.
Customer service will be minimal—about as good as at a carrier store.
Limited access to your carrier credentials means you should know your passwords and pins beforehand.
Buying Used iPhones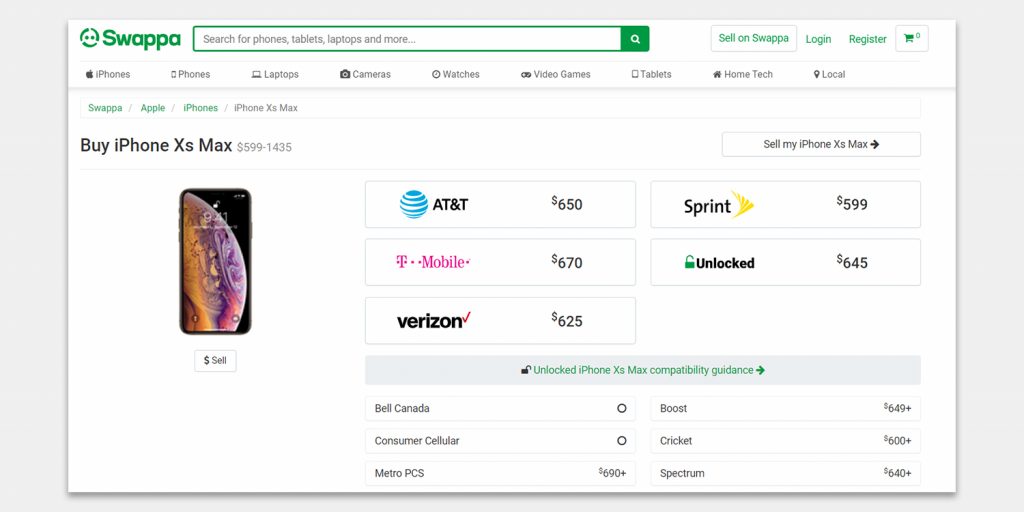 If you're not the type of consumer that is easily mesmerized by the latest and greatest, then you might as well look into buying a used iPhone. After all, a last-gen iPhone is still a great phone, assuming it's in good cosmetic condition and was taken care of by its previous owner. There are many ways to buy a used iPhone, all have their place in the marketplace. In general, used iPhone can be broken down into three categories, all with their own price points:
Get Cash For Your Used iPhone
We buy used and broken iPhones for top dollar! Get free shipping, a 14-day price lock, and our highest price guarantee.
GET A FREE QUOTE
Used—this is a blanket term, typically for any iPhone sold by an individual.
Refurbished—if you see this term, it means the iPhone you're buying was checked at a factory, where it was repaired, re-tooled, and is now back on the market. Refurbished iPhones are usually more money but are in better shape—they should function almost as if they're new.
Unlocked—while this term doesn't say anything about the condition or the origins of the iPhone, it means that it's not "locked" to a specific carrier and can be used by anyone, even international folks. Unlocked iPhones fetch much higher prices because they're so much more versatile than your average carrier-locked iPhone.
Buying a Used iPhone Through eBay
eBay is still the world's digital yard sale and it's easier than ever to use the site to find deals on secondhand items—iPhones are no exception. Buying an iPhone through eBay is as easy as searching for the model number and storage capacity of the iPhone you want. But there are some things to consider:
Bid on items that have real photos of the product, not stock photos.
Verify the phone carrier and ensure it's the same one you use.
Only buy an "unlocked" iPhone if you know what you're getting, otherwise, you'll be spending unnecessary money.
Buying a Used iPhone Through Craigslist
Craigslist is, in essence, a big community board for all kinds of interactions including buying and selling. Your mileage may vary using Craigslist but great deals can be found here. While eBay is driven by a bidding system, which keeps iPhone prices on their marketplace steady. On the other hand, Craigslist runs entirely on direct transactions, so you could score yourself a deeply discounted iPhone if you look hard enough. With Craigslist, take your time and remain sceptical. And remember to consider the following:
Craigslist can be full of scammers, so understand the premise of the most popular online scams so you don't fall victim to one.
Meet in a public setting—many police stations have a "craigslist transaction zone" in their parking lot for this very purpose.
If something is too good to be true, it is.
Buying a Used iPhone Through Swappa & Other Marketplaces
A business model is emerging amid used electronics buying and selling; companies like Swappa facilitate the buying and selling of this technology, giving users a straightforward approach to transacting sales by providing pricing guidelines paired with an intuitive interface that allows consumers to buy used electronics with just a few button clicks. Buying through these types of marketplaces is clear, user-friendly, and will net you a solid discount on a gently used iPhone. Although, marketplaces like Swappa have a couple of caveats:
Pricing is so standardized that you won't find the best prices, but these companies hope the convenience factor outweighs the cost-savings you're missing.
Swappa and websites like it are best for "gently used" and more recent technology. Anything outside of that category is best found elsewhere.
Swappa's refund policy will only cover "not as described" scenarios—buyer's remorse is not considered a valid reason for a refund, like at a retail outlet.
Consider Your Options
Whether you're buying your iPhone used or new, you're investing in the ownership of that technology, which will benefit you greatly when it's time to upgrade. There's no better feeling than getting cash for an iPhone trade-in, especially if you've done your due diligence to keep your phone in perfect shape.
And while other consumers may lease their iPhone and always have the latest model in their hands, you can sit back and find satisfaction in the fact that you're forgoing monthly payments on your iPhone and when the time comes, you can trade the device in and put that cash toward your next purchase.