Wallet cases do everything you want them too. Not only do they give your phone an added layer of protection, but they also allow you to conveniently stash your credit cards, money, and ID in one place.
We've rounded the top 10 best iPhone wallet cases out there. From simple and affordable to handcrafted folio covers, you can replace your regular wallet with; you're sure to find the perfect match for you.
All these cases are compatible with the latest iPhones, including the iPhone 11, iPhone 11 Pro Max, iPhone XR, and iPhone XS. If you have an older model iPhone, you can still find exceptional wallet cases from these same companies.
1) Nomad Rugged Folio
Amazon: 69.95
Nomad has long made incredible cases for the iPhone. The iPhone edition particularly shines, however. It has a leather folio that's so thin you'll barely notice the case on your iPhone.
It's equally strong made from industry-leading polycarbonate along with a protective bumper to protect your iPhone if you accidentally drop it.
The Horween leather is great to the touch and includes a soft interior that prevents scratches. Inside, you can store up to three cards along with cash. You can choose from black or brown leather and is compatible with wireless charging.
2) Lopie Slim Card Case
Amazon: $17.99
One of the best things about having an iPhone is how thin and sleek it is. But, as soon you put a case on the phone, that goes away quickly. The Lopie Slim Card Case is an affordable option for iPhones user who wants to keep the iPhone's sleek form.
The case features an innovative design and includes metal buttons along with visible stitching you usually find on much more expensive products. And it's lined with soft cotton to protect your iPhone from scratches. The back slots can hold two cards.
You can choose between leather or fabric finishes, and it does support wireless charging. The case is available for all iPhone models as far back as the iPhone 7 and 8.
3) HEX 4-IN-1 iPhone Wallet Case for iPhone 11
Amazon: $99.95
Get Cash For Your Used iPhone
We buy used and broken iPhones for top dollar! Get free shipping, a 14-day price lock, and our highest price guarantee.
GET A FREE QUOTE
If you want your wallet case to do a little bit of everything and don't mind paying for it, then Hex 4-1 Wallet Case is right up your alley. The case is actually separate parts that can either stand-alone or attached together via powerful magnets.
Back by strong polycarbonate and tooled impact bumpers, it has superior drop protection. The case alone is slim, but you can attach the folio and wallet pieces for maximum style and utility.
The case features RFID blocking and is made from high-quality leather available in black, brown, and camouflages finishes. The interior is a soft microfiber to prevent scratches.
4) Mujjo Leather Wallet Case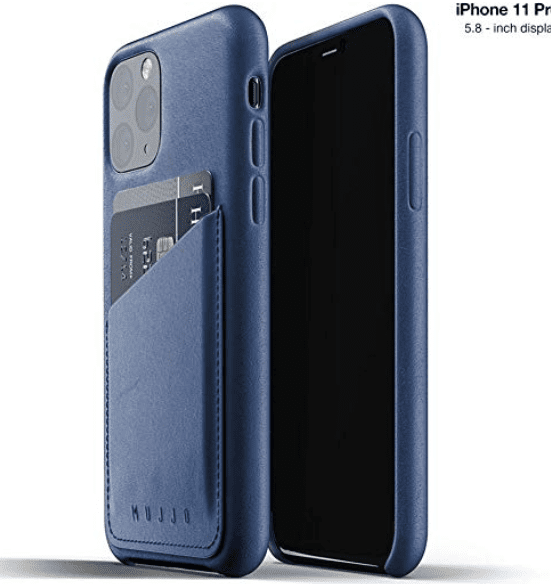 Amazon: $49.95
Mujjo's leather case tops our list as the most elegant wallet case you can buy. Magnificently slim and stylish, Mujjo crafted the case from high-quality leather that only gets better as it ages. It also includes a nice built-in pocket that can hold 2-3 cards.
The interior is padded with a Japanese microfiber, ensuring your iPhone never gets scratched. It's also luxuriant to touch with its soft and supple leather.
You can see the craftsmanship in the details, particularly the buttons and camera opening. It is wireless charging compatible and comes with a 2-year warranty.
5) Tech21 Evo Wallet Case
Amazon: $34:50
Some of us drop our iPhones more than others. If you live an especially rugged life or just have slipper fingers, the tech21 Evo Wallet Case is perfect for you. The special proprietary materials allow the case to withstand 12-foot drops! All this comes in a modern, fashionable thin design.
It also has slots for two cards and robust magnetic enclosures that can double as an accessory stand. The materials are also 30% plant-based offer maximal project while using more sustainable materials.
6) Apple Leather Folio Case
Apple: $179.99
Some people just have to do everything the Apple way. Apple's folio is definitely on the pricier side, but you're getting the best design to go with. Crafted from high-quality European leather, the case fits your iPhone like a glove.
The folio includes cases for cards and will automatically wake your phone when you flip it open.
It's available in black and aubergine finishes and includes a soft microfiber lining for added protection along with space for bills and notes. It's wireless charging compatible and rigorously tested to ensure the highest quality.
7) Spigen Slim Armor CS Wallet Case
Amazon: $17.99
We all know any accessory produced by Apple is going to be pricey. That's why the next one on our list should be refreshing to price-sensitive readers. The Spigen Slim Armor Wallet Case is sleek, strong, and a bargain at just $17.99 (though it can be more expensive for other iPhones).
You can hide away to cards in its back compartment that easily pops out to allow you access. The dual-layered body of the case offers some of the best drop protection out there while still being pocket-friendly and slim.
You can choose from gunmetal gray, rose clod, black, and red options, and it does support wireless charging.
8) OtterBox Strada Series Case
Amazon: $62.96
OtterBox has long been one of the top iPhone accessories manufacturers. The OtterBox Strada Series delivers on the company's reputation for toughness while bringing it together in a sleek and stylish package.
Genuine leather is used in the finish of each wallet case in a choice of black or brown. The integrated pocket includes space for two cards while providing maximum protection against drops, scratches, and scrapes. You can easily slip the case on and off.
All cases come with a limited lifetime warranty and are compatible with wireless charging.
9) Smartish Wallet Slayer Vol. 2 Case
Amazon: $24.99
The Smartish Wallet Slayer Vol. 2 Case (try saying that ten times fast) does everything you want a case to do. It offers excellent protection, a card slot with space for cash, and a wide variety of colors to choose from.
What's really fun about it is you can use one of your cards to turn the case into a kickstand for each Netflix watching. It has other nice features, including specially textured sides to prevent slips and wireless charging compatibility. It's available for all models of the iPhone since the iPhone X.
It comes in three main colors, but you can also customize the case using the 'secret menu' when you order.
10) Sky case Handmade Flip Folio Wallet Case
Amazon: $10.99
Who says you can't have everything you want in a case for a little more than $10. Rounding out our top ten list is this great case from Sky case. It features three large card slots and space for cash and is 100% handmade out of durable leather.
It's the ideal purse replacement and includes a strap and anti-slip functionality to make holding it in your hands both easy and comfortable.
The Sky case available in seven colors and also includes a kickstand for easy binge-watching on the go. Along with its 1-year warranty, it's truly hard to beat this affordable option.
The Best iPhone Wallet Cases
These days you have more choices than ever when it comes to iPhone cases. Whether you are looking for something ultra-sleek, ultra-rugged, or a little bit of everything, you're sure to find exactly what you want on this list.
For more on iPhones and iPhone accessories, cruise over to the Buyback Boss Blog. If you want to save money on your next iPhone, you might want to consider buying refurbished. Here's everything you need to know about refurbished iPhones. Discover this and more when you head over to our blog now!