Addicting iPhone Games That Will Cure Your Boredom
Commute to work getting you down? Long road trip coming up in your near future? Tired of the same old games – or worse, don't have any games on your iPhone? Well, doldrums be gone! These games will keep you so enthralled you might just miss your stop. So call in late for work and prepare for endless hours of entertainment – or at least endless hours of mindless tapping and driving your significant other crazy because you're only half listening.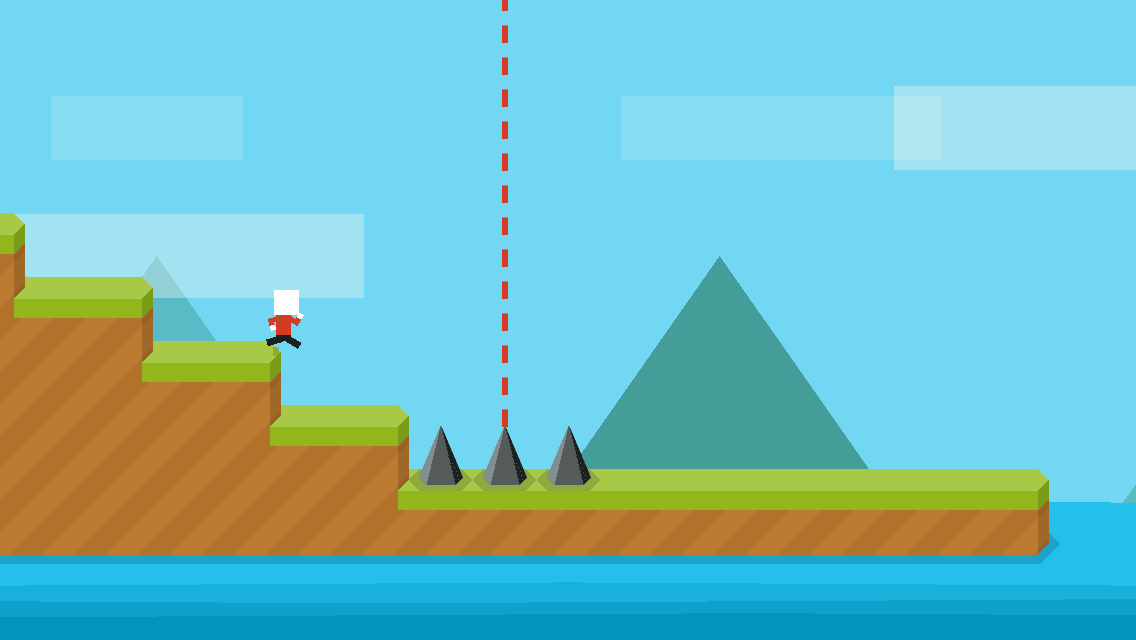 Mr. Jump
An intuitive one-touch platform, Mr. Jump is simple yet challenging. Touch the screen to make him jump. The longer you hold, the higher he jumps. In short, it's very addictive.
A fun one-button game that demands pattern memorization.
Gameplay reminiscent of retro games in its apparent easiness that quickly morphs into an infuriating fight against your own human weakness.
An easy way to lose an hour.
Flappy Golf 2
Speaking from personal experience, this is one of those games you innocently start, thinking you'll just try it for a moment, black out and come to working on level three. A simple but enthralling iteration of the 'flappy' style game, it consists of two options: flap left or flap right as you try to make it from the tee to the hole on a variety of funky, funky golf courses.
Use flaps to get from the start of the course to the end – and try to come in under par.
One player and local multiplayer options.
Lives up to its claims – download at your own risk, as the developers say.
Subway Surfers
Finding this game at last was almost a relief since it finally answered the question, "What is she playing?" This game has been incredibly popular and for good reason (especially, it seems, among subway riders – can't imagine why). Dash and dodge amongst trains with the swipe of a finger. While Subway Surfers bears a noticeable resemblance to games like Temple Run, it is, frankly, cooler – in looks, in features, and in that it's a little hipper in content, for better or for worse.
Classic endless chase game operated with swipes of the finger.
Get Cash For Your Used iPhone
We buy used and broken iPhones for top dollar! Get free shipping, a 14-day price lock, and our highest price guarantee.
GET A FREE QUOTE
Use a hoverboard, spell the word "cool", and be chased by what appears to be Frankenstein's monster (the current version is Transylvania-themed!).
Flippy Bottle Extreme!
The addicting appeal of this game almost makes one question the meaning of our humble existence… Why is it so appealing? Why would  we the human race have these beautiful minds that are capable of nuclear physics and waste them spending two hours on the couch flipping a virtual bottle that just… won't… do it? I don't know, but I do know this is a good game. I hate this game.
Very difficult, deceptively simple game.
Try to flip a bottle with a finger swipe and fail repeatedly.
Risk losing your job because the bottle flipping has taken over your life.
Evil Apples
Ahh, much better. This is a great [very naughty, 17+ rated] game that has a definitive winner. It's essentially just Card Against Humanity for iPhone, and you can play with your friends or a group of randomly selected strangers who won't appreciate your sense of humor.
Play a dirty card game with friends or strangers.
Over 2,500 answer cards, so you won't memorize the deck any time soon.
Enjoy a game with an ending for once.
Jumbline 2
After that brief intermission, here's another endless game you can never win – only aim do better than you did last time. But this one has words! Jumbline is a word scramble game that can be played at varying levels of stress, from untimed and easy-going to something that resembles word Tetris.
Challenging but not impossible word scramble game.
Great for jumpstarting your brain on mindless morning commutes without really exerting yourself.
Built in dictionary for when you say, "Oh come on, that's not a word!"
Snake Game Classic 1997
It's the Snake game. You know, THE snake game. Need I say more? This version is a little clumsy and heavy on the ads, but it's free and generally functional.
You are a snake. Swipe to turn. Eat the eggs; don't eat your ever-growing tail.
Sonic CD
Speaking of old habits, this is a very exciting turn of events for anyone who grew up playing Sonic the Hedgehog. IGN says, "This is a great, fully featured port for iOS", and they're not wrong. It's a classic gaming experience guaranteed to bring you hours of nostalgic fun. No complaints here.
Play a classic speed-based platform Sonic the Hedgehog game on your iPhone.
Break Dr. Eggman's hold over the future.
Disney Crossy Road
Disney Crossy Road, despite the somewhat odd name, is a solid game. It's a Frogger-esque endless adventure game where you're forever trying to cross roadways without going splat. And this version, being partnered with Disney, includes lots of your favorite characters (and some lesser known ones) with whom to avoid splatting. It's not the most challenging game in the world by any stretch, but it does provide the kind of numbing entertainment that allows you to really contemplate all the things you haven't done while you progress.
Easy endless adventure game featuring over 100 Disney & Pixar figurines that dodge oncoming traffic.
Features 8 bit versions of settings and songs from classic Disney films like "The Lion King" and "Toy Story".
Love You To Bits
When our hero Kosmo's robot girlfriend is in an accident, pieces of her are scattered through outer space, and Kosmo wants to put the pieces back together. An adorable, puzzle-centric adventure game, "Love You To Bits" is on another level.
Sweet and beautifully rendered adventure game.
No in-app purchases once you buy the app.
Complexity in story and in puzzle solving build as you progress through the game.
Bastion
Last but not least, Bastion is even another level up from "Love You To Bits". If you're willing to dive in, these are true gamer's games for iPhone. "Bastion" is an award-winning RPG with hand-painted artwork and a gorgeous original score.
Get lost in a well-plotted and artfully designed game.
Choose the difficulty setting that's right for you.
Battle beasts as you uncover the storyline of the game; experience over 40 unique environments and hours of reactive narration.