10 Must Have Apps for Music Lovers
If you're "cuckoo for cocoa puffs" about music, you already know how great a resource your devices can be to stream, discover, create, and share music. Here are 10 great apps for sharing and fueling your passion for great songs – or for torturing your friends with terrible ones, if that's more your style.
Spotify
This is a solid, dependable service with a great library. It has all the features you need to craft the perfect playlist and send it to your crush, and then it gives you a perfect soundtrack to run to when her boyfriend finds out.
Custom Playlists
Make and share custom playlists with your Facebook friends. Finally, you can find out what your mom is listening to these days!
Listen to the Songs You WANT to Hear
Unlike many radio-based apps, you can listen to the songs you want to, when you want to, and in the order you want to. And with a huge library of songs and artists in a variety of genres, your latent obsessions with Sister Hazel, Sammy Davis Jr., Ileana Cotrubas, and Fetty Wap can finally co-exist in exactly that order.
Recommendations
Provides top notch recommendations based on your listening history, including providing a new playlist if suggestions each week.
Sync with Exercise
The app matches the tempo of the music with the tempo of your steps, which is great for runners.
App Cost: FREE
(Premium version available)
TuneIn Radio
TuneIn Radio lets you – true to its name – tune in to over 100,000 AM and FM radio stations around the world. The greatest strength of this app is the sheer number of options. If you're interested in music of all sorts and in a variety of contexts, this is a fascinating way to discover new worlds.
Live Streaming Radio
Enjoy live streaming radio from across the globe, including your hometown, probably.
Slacker Radio
Described as 'highly curated', this is the indie, original choice for music radio streaming apps, with the added star-power of stations hosted by artists like Karmin, Plain White T's, The Wanted and Chiddy Bang.
Stations by Humans
Listen to stations crafted by humans instead of algorithms, which can make for more surprising and nuanced choices.
Extensive Library
Access their extensive library of hip and deep cut tracks.
Sleek App
A very sleek app, they have a strong brand and seem to value building and adding to their niche, original vibe.
DJs
Known for informative DJs and enjoyable live radio aspects, missing from other similar services.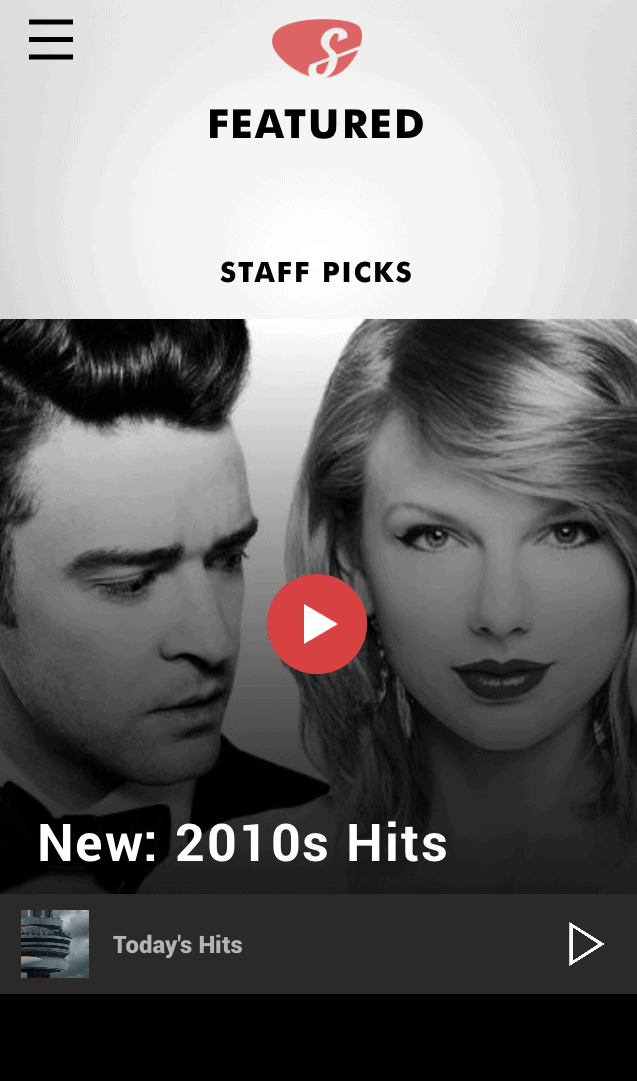 Pandora
Say what you will, but Pandora has become the standard for radio apps. It's a mild-mannered app that gets the job done when you just need someone else to just choose the music to play at work for once. It has some decent features and is by-and-large inoffensive and reliable, with the history behind it to have most of the kinks worked out by now.
Great Song Recommendations
Experience their solid song recommendation engine that adapts to your tastes when you remember to give songs a thumbs up or thumbs down.
Easy to Navigate
Easy to navigate and allows you to be pretty hands-off – as long as it knows you're there, it'll roll through related tunes until the cows come home.
Custom Stations
Create and customize your own radio stations based on multiple artists (for example, Taylor Swift + Green Day + Ella Fitzgerald).
Extra Information
Access lyrics and information about how songs are chosen based on your indicated preferences.
Google Play Music
Well, Google Play Music ate popular music app Songza, which was the best and laziest of lazy man's radio station streaming apps. You don't even pick a genre or artist – you select your mood, it does the work – and fairly well. Google Play Music has now incorporated that feature along with a host of other features more standard to these services. While there are still some hiccups in the integration, the world is hopeful that once this app has matured a bit, it will be all that Songza was and more.
Incorporate up to 50,000 songs from your personal music collection.
Browse radio stations by mood.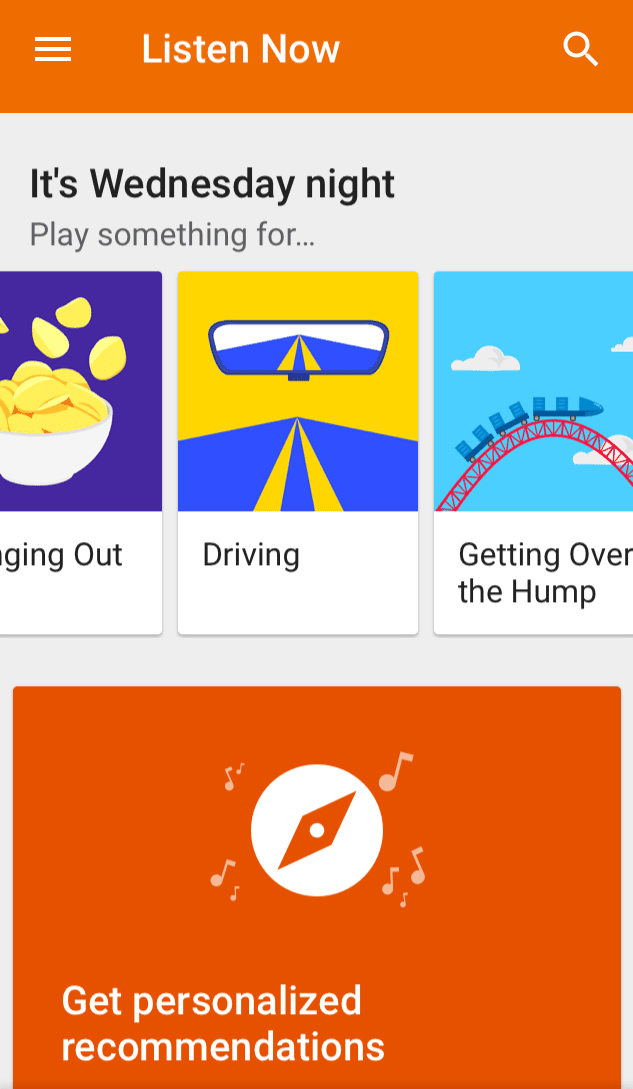 Qello Concerts
This is a cool app primarily for the unique service it offers: Qello is the number one app for excerpts and full videos of concerts and music documentaries.
Watch Concerts
Access partial and full concerts from a wide variety of artists, adding new material regularly.
Create Setlists
Create your own 'setlists' of live concert moments.
Channels
If you don't want to choose your own adventure, you can watch any of 30+ channels streaming concert video moments at any given time.
App Cost: $7.99 Per Month
Shazam
This app has almost become its own verb at this point, as countless 22-year-olds in loud bars attempt to find out what Cure song is playing, but its raison-d'être is admittedly pretty handy. For those not in the know, Shazam 'listens' to a song you're hearing out in the world, identifies the song, and takes you to iTunes to download it (which you can then close out of and find it on your app of choice). That said, Shazam does have some other cool features, like making recommendations for other songs you might like and the ability to buy concert tickets – not that anyone uses it for that.
Identify Songs
Use Shazam to identify songs you don't recognize or can't recall the name of and add them to your collection. Wow!
Even More Features!
It also has a visual recognition feature, song recommendation engine, concert ticket sales feature, and its own charts, not that you care.
Genius
"The world's biggest collection of song lyrics and crowdsourced musical knowledge", Genius is a very highly rated app providing a fairly simple but essential service to music lovers: lyrics.
Lyrics
Get the lyrics to all your favorite songs that you don't know the words to.
Song Meanings
Crowdsourced lyrics annotations and verified information from artists and producers provide cool facts (or "facts") to give you a behind the scenes look at tracks and albums new and old.
Beatwave
Something between a game and a music writing software, Beatwave is a lot of fun for music lovers (and a little torturous for their roommates). Create songs on your iPhone or iPad using their grid and your finger.
Songs & Ringtones
Create songs and ringtones with your fingertips, no musical ability required!
Create Songs
Use their built in instruments and sound effects to create a variety of sounds that, thanks to the grid system songs are based on, almost can't be discordant.
Advanced Features
Has features that allow those more finely attuned to the musical world to have fun too, with options to tweak and fine tune to create more advanced pieces.
Share With Friends
Export your songs and send them out into the world.
Keezy
This is a fun, exciting, highly rated app that does one thing and one thing only: Keezy is a funky looping app for the budding Reggie Watts of the world. Where Beatwave provides the sounds and you organize them, Keezy allows you to record your own sounds and loop and distort them – as well as use a small number of pre-recorded "soundboards".
Create Your Own Songs
Record your own sounds and sound loops to create music ranging from magical to dystopic that you can share with your friends.